Personal Reading Response Rubric
How To Write a Literary Reflection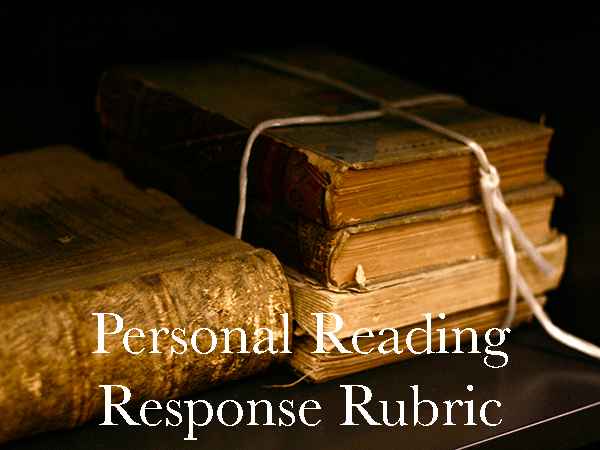 Downloads
Feel free (and they are free!) to download and use any Crafted Word Rubrics. Simply include a link to TheCrafted Word.org and help us spread the news of our site. Thanks!
The editable rubric is a MS Word document.
If using Pages on an iPad, open the doc in Pages after downloading.
If using Google Docs, upload to Google docs after downloading.
Personal Reading Response
How To Write a Literary Reflection
I am sure that many of you have been asked to do in-class or summer reading of some sort—and I bet, too, that your teachers will ask you to write something about a book, poem or story—or even just a chapter—that you have read. My Personal Reading Response Paragraph Rubric can help you write an awesome and meaty paragraph that is insightful, well-organized, and interesting. Try it!
A personal reading response needs to feel and sound like you speaking at your very best, and it needs to be both honest and thoughtful. Being thoughtful means that you are careful and considered and real in your writing. Being honest means being authentic. Genuine praise is enlightening to a reader; false praise reeks of arrogance.
You can use this rubric when you are asked to—or desire to—craft a "personal" response to a piece of literature. Read the descriptions of each step of the rubric on the left side, and then insert your sentences into the boxes on the right side of the rubric.
When you are completed, paste the full writing piece below the rubric.
The completed response should be 350-600 words in length. It can be compiled as a single paragraph, if that is required and your final piece is closer to 350 words, but I think it works better as a brief essay with multiple shorter paragraphs.
Assignment Details
 Assignment Details:
Follow all of the formatting requirements .
Follow the directions for each step of the rubric.
Be sure to "try" and match what you write with the directions for each stage of the rubric.
2. The Broad Theme
(Opening Paragraph)
The Hook
Every writing piece needs a good and pithy "hook" to gain and grab the readers attention.
Without even mentioning the title, write a brief, single sentence that tries to capture the attention of your audience by stating the major theme of your personal reading response.
The way you craft this sentence sets the direction, tone and mood of the reflection that follows.
3. Narrow Theme: (Opening Paragraph)
Get Specific
In the second sentence, introduce the piece of literature, the genre of the piece, and the author, as well as the major effect the writing piece had on you personally.
Remember that book titles are italicized.
Short story, song, and poem titles are put in quotes.
4. One/Two Punch: Opening Paragraph
What is the Author Trying To Do?
Every writer writes for a reason, and when doing so  he or she tries to get the reader to feel or think in a certain way.
Write two or three more sentences that tells your reader what "you" feel the author is trying to do in the writing piece.
For added emphasis and support, you could also include a researched quote from another source to back up your thoughts.
5. Smoking Gun: (Second Paragraph)
Summary & Text Reference
Briefly, using three to five sentences, summarize the story, poem, or song. It is important to give a brief summary of the writing piece because it helps your reader put the writing piece in context.  This does not mean, however, to give away all of the details and spoil it for your reader.
Who: who is or are the major characters?
Where: where is the action happening?
When: when is the action taking place?
What: what is the main conflict that is happening?
Why: why is this conflict happening?
6. Head & Heart: (Third Paragraph)
Metacognition
Remember that in a personal response, you can't be wrong―as long as you are truthful. In this section of your paragraph write honestly from your head and heart about your experience reading and understanding the text. Below are some ideas for how to approach this paragraph, but please expand the list to suit your response.
Here are some ideas, but don't answer these like a list of questions! Weave them into a narrative paragraph that flows "conversationally." You can't be wrong here, but you can write in a way that is dull and boring to your readers.
How did the writing piece affect you? Was it exciting, boring, interesting, dull…why?
What emotions did it make you feel?
Did you relate to the content or the characters in some way, shape or form?
Did it challenge you to think and feel in a different way?
Did it change any part of your own world view?
Did it bring up memories of other books or authors you have read?
7. Get Out: Fourth Paragraph
Elevator Review Conclusion
The conclusion is as important as the hook, so do your best to make the end of your paragraph as interesting and refreshing as your opening sentence.
Imagine that someone in an elevator asked you about what you are reading, and you only have ten seconds to respond.
You can touch on what you have already written, but don't use the same words again.
Really, it should not take more than ten seconds to read this last paragraph!
8. Paste, Proofread & Publish
Do What Writers Do
Paste each step of the rubric in the space below. Proofread, edit and revise as needed. Publish as required by your instructor.
The rubric is a guide, not a rigid structure. If it sounds too academic it will lose the power of a narrative essay.
Revise your sentences and paragraphs to create a narrative voice that mimics your real voice.
Pay close attention to formatting, punctuation, grammar and mechanics.
Add more paragraphs if you feel it will be more effective for your readers.
Have fun with your words, and your readers will have more fun reading!
Explore more of The Crafted Word Rubrics